With the unnecessary and unwanted remake becoming the 'who the heck thought this was a good idea?' film of the season (previously occupied by such luminary pictures as Birds of Prey and The Rise of Skywalker), I decided to revisit the original Mulan, which I had not seen in many, many years.
Mulan came near the tail end of the Disney Renaissance of the 90s, about the time the formula was beginning to wear thin and the films were going into decline. I may attempt a full recap of the Disney canon someday and then it will be time to tackle its place in the series, but for now let's just consider it by itself as a film.
In Medieval China the Huns (led by the intimidating Shan Yu) have invaded over the Great Wall. In response the Emperor sends out his imperial troops to stop them and orders up conscription; one man from every family to supplement the regular army.
We then meet Mulan, the intelligent, tomboyish daughter of a crippled war veteran. When the call for conscription comes out, her father sets aside his crutch and steps forward, though its plain his fighting days are behind him. Mulan, who loves her father dearly, can see that if he goes to war, he will certainly die. She first tries to talk him out of it, which prompts him to anger, then resolves on the desperate course of disguising herself as a boy and taking his place.
Her ancestral spirits, concerned of the impact this might have on the family, dispatch the demoted ex-guardian Mushu to fetch her back (they try to send the 'stone dragon,' but Mushu breaks it. We'll not try to work that one out). Mushu, however, hits on the idea that he can regain his own lost status if he can make Mulan a war hero and so decides to help her succeed in the army instead.
At the camp, Mulan receives a crash course in the male mode of life and begins training under the young captain Shang, son of the Imperial General. At first she struggles just to keep up with her fellow soldiers (themselves pretty unimpressive), but through perseverance, hard work, and cleverness she and her comrades grow into competent soldiers. Before long she and her ragtag unit find themselves marching into battle against a vastly superior foe.
Watching Mulan, I can see why it's often considered a rather forgettable, middling entry in the Disney canon. It's uneven in its tone and the Disney Renaissance formula elements (soulful hero who feels 'different' and yearns for something more, cute sidekicks, Broadway-style songs etc.) are sometimes jarringly out of place. Yet, at the same time, I was struck by how much better it is than most of the films being made today. It's a really good story, for one thing, and the characters, especially Mulan herself, are written with a degree of skill and nuance. It's, well, a good movie. Not a great movie by any stretch, but a pretty good one.
In particular, the film takes a fairly intelligent approach to Mulan's situation. She doesn't put on her armor and immediately become a badass, or find her only obstacle is prejudice or some such nonsense. She runs into many of the problems you would logically expect someone in her situation to encounter. When she first starts her masquerade, she gets tripped up by merely talking to the other soldiers, since she has absolutely no idea how men relate to each other (Mushu's advice doesn't help). This causes her to make several bad first impressions, though amusingly enough, it also helps her masquerade a bit, as her apparent incompetence makes it easier for the royal official to believe that her father "doesn't talk about me much".
Then when training begins, she's the most hopeless of the largely hopeless unit, struggling even to master basic tests. But she sticks with it, works hard, and starts finding ways to work in her new environment. Her inventiveness (established in her very first scene) allows her to figure out a particular challenge Shang has set them, and she and her fellow soldiers all grow over the course of training. They not only master the difficult tasks set them, but develop comradery with each other. The soldiers, Mulan included, earn one another's respect through shared hardship and developing competence.
One thing I particularly like is that she actually is given a chance to go home part way through training. Rather than leaping at the chance, however, she stays and gives the arrow challenge one more shot. This is both very admirable of her and fits perfectly with what's been established without having to make it explicit. Going home would mean bringing shame on her family and her father for having sent a worthless reject to defend the Emperor. It isn't just a matter of helping her dad dodge the draft; the family name and honor is at stake. She's taken it upon herself, and so she has to keep trying to uphold it.
Which is another thing that this film does well; it has the sense to understand that Mulan's story is not only about her. Her family and her country are also on the line. Her becoming a soldier, even if she's the best soldier of her unit, doesn't ultimately mean anything unless she can preserve them.
Of course, the film also makes obligatory gestures toward modern individualism, with Mulan wanting to be 'who I am inside' and all that. Though to its credit, when she wrestles with the question of whether that was her real motive, she's clearly ashamed by the idea of its being so (more credit to the film in giving her such mixed motives in the first place).
In short, Mulan actually takes super-personal matters of honor, familial duty, and feudal obligation seriously and treats them as if they had legitimate claims rather than being mere obstacles to personal development.
On that note, despite its surface-level feminism the story is actually remarkably patriarchal (and I have to clarify, I think that's a good thing). The whole plot is centered around protecting the Emperor (more on him in a minute), which is reflected in miniature with Mulan trying to save her father.
Her father is a thoroughly admirable character; a former war hero and a kindly man who loves his daughter deeply. After her disastrous meeting with the matchmaker, he doesn't rebuke her for screwing up but comforts her by likening her to a flower that hasn't bloomed yet. In his one moment of anger with her (telling her to "know your place") he's actually shown to be fundamentally correct. She's trying to convince him not to go to war, saying there are plenty of young men to fight and he isn't necessary. He answers, essentially, that it isn't about him, and that honor – doing what is right – is worth dying for. Which, as noted, pretty much drives everything she does from then on.
Basically, she was right that he can't go to war – since he's a cripple and wouldn't survive in a battle – but she was wrong about what to do about it, which prompts her to take a desperate and unexpected solution to save him.
(There is the fact that he may have just been sent home upon failing training, which arguably is a plot hole. However, I don't think that actually detracts from the story: the fact that he is a war hero – Shang is impressed upon finding out who 'Ping' is related to – means that he probably would have been kept on out of respect if nothing else. And if he were sent home, that would have also brought shame on the family, assuming that he accepted the dismissal, which it's reasonable to think he wouldn't have, so it would have been a disaster nonetheless. And finally, we can reasonably assume that, in any case, Mulan wouldn't have thought of that. So, even if she didn't strictly have to go, she would have believed she did and once committed to the scheme she would have to see it through to the end).
Her filial devotion to her father is mirrored by China's devotion to the Emperor. The new troops who are called up are specifically called to serve the Emperor. When they find the Imperial Army destroyed, Shang tells his troops that they're "the only hope for the Emperor now." Note the specificity: not China, but the Emperor. Since, of course, he embodies China.
This all gives us a wonderfully positive image of monarchy. The Emperor answers the filial devotion of his people with a paternal love and care for them (at one point he calls them "my children"). Upon learning of the invasion, orders his armies away from his palace to defend the outlying provinces. When Shang meets him after the battle, the Emperor's first move is to condole with him on the death of his father. Then when Shan Yu has him captured and at sword point, he still calmly and resolutely refuses to bow to the Hun, willing to accept death rather than dishonor his people.
In all this the Emperor is convincingly portrayed as the father and embodiment of his nation, and as a man who takes this role very seriously. He wields absolute authority but tempered with the personal touch of a man relating to other men.
As for Mulan herself, I touched on it a bit, but she's a likable heroine; her evident courage, devotion, and willingness to persevere make her admirable, while her initial clumsiness and warm-heartedness make her endearing. She's a bit of a common trop – the smart, independent woman chafing in a traditional society that we've seen a hundred times – but fortunately the aforementioned piety she shows, as well as her efforts to fit in the military while still having a distinctly feminine personality peeking through the cracks is more than enough to keep her interesting.
Her heroics are generally excellent. Again, the film is smart enough to know that she cannot hope to match her male allies or enemies in strength and so she doesn't try. Instead she employs her grace, agility, and cleverness to get around their advantages, as when she uses their one remaining cannon to start an avalanche to take out the entire Hun army, or when she uses her fan (a distinctly feminine article) in her showdown with Shan Yu. But I love that, though she's fighting in unorthodox way, she is still putting herself on the line for the sake of her comrades and the mission. Her trick with the cannon requires her to get right up to the charging hoard, resulting in her being wounded. In the climax there's a moment where she has a chance to join her friends and the Emperor, but chooses to forego it to prevent Shan Yu from following them, leaving her and Shang trapped with an extremely angry Hun. The film does an excellent job of showing that in all her schemes and gambits, the mission and her friends always come first for her. This, much more than simply beating the bad guys, is what makes her a worthy heroine.
I also like how she keeps her feminine habits and outlook throughout the film. She's nearly unmasked at one point because she's used to regular baths and tries to sneak one in the local watering hole ("There are a couple of things I know they're bound to notice!" Mushu laments as her new buddies rush to join her). In this scene there's also a small detail where, when one of her friends tries to shake hands, she instinctively offers hers as though presenting it to be kissed.
It's clever too that at no point does Mulan actually like being in the army. She makes friends and is able to pull her weight, but she's clearly feeling awkward and out of place the whole time. Kudos to the animators for making her armor look bulky and ill-fitting throughout, visually cluing us to her discomfort. Even in her most heroic moments, the animators are sure to show that she is frightened, and she does feel out of her depth (I love the bit where she throws her shoe at Shan Yu to focus his attention on her and then fumbles to put it back on so she can run away from him). This carries on to the very end, where even in her final gambit she's quietly frantic as she tries to get out of the way of the results ("getofftheroofgetofftheroofgetofftheroof…").
Also, not all of her 'quirks' are positive. At the start of the film she's shown to be kind of lazy: oversleeping, trying to cheat on her test, and getting her dog to do her chores for her. This habit realistically come back to bite her in the army and she has to learn to temper her natural inclinations with discipline and hard work.
Then there are her interactions with Shang, where, as intimidating and stern as he is to her, she still takes the time to reach out to him emotionally when she sees he is down, trying to build him up and support him (that and she can't help staring when he takes his shirt off and reveals his chiseled physique).
I also have to give the film credit for the logic of how she's eventually discovered (she's wounded in battle) and what happens next; Shang actually does seem about ready to execute her, and his (stated) reasons for not doing so make perfect sense. His reaction on seeing her again when she comes to try to warn them are likewise pretty well done. He's surprised, but he isn't really angry with her; he just wants her to go away.
Shang himself is a decent character; a tough, capable, masculine hero with his own story arc. He's established right away as, like Mulan, being very close to his father and wanting to live up to his expectations and uphold the family honor (his introduction also lets us see the good-humored man beneath the commander as he stammers over his thanks for the promotion before collecting himself). We get to see a fair amount of his struggles as well; saddled with green, uncouth soldiers – not to mention an obnoxious bureaucrat who is constantly criticizing him – and trying to whip them into shape in order to live up to the responsibility entrusted to him (though I will say one minor flaw is that he seems to throw away at least one sword too many over the course of the film).
I appreciate that, though Mulan is of course the star, Shang is allowed to be a dashing and heroic figure in his own right. Among other things he rallies his pitiful unit to continue their mission even after finding the main Imperial Army has been wiped out (including his father), ready to fight out the war to the bitter end. He's also the one who actually saves the Emperor and though he loses to Shan Yu in a one-on-one fight, he does so in a way that shows him be an impressive combatant in his own right (that is, it's clear he's simply out-classed rather than unskilled). And when he and Mulan end up facing the Hun commander alone, his first move is to try to protect her and focus Yu's attention on himself.
Their romance actually works a lot better than I remember it. Her glimpses into his interior life and the compassion she shows him form a believable basis for an attachment. His interactions with her (such as the way he calls for her to come back during the mountain fight) hint that has an idea there's something different about this particular soldier, though he can't quite put his finger on it, mirroring how she sees past his commander persona to the human being underneath.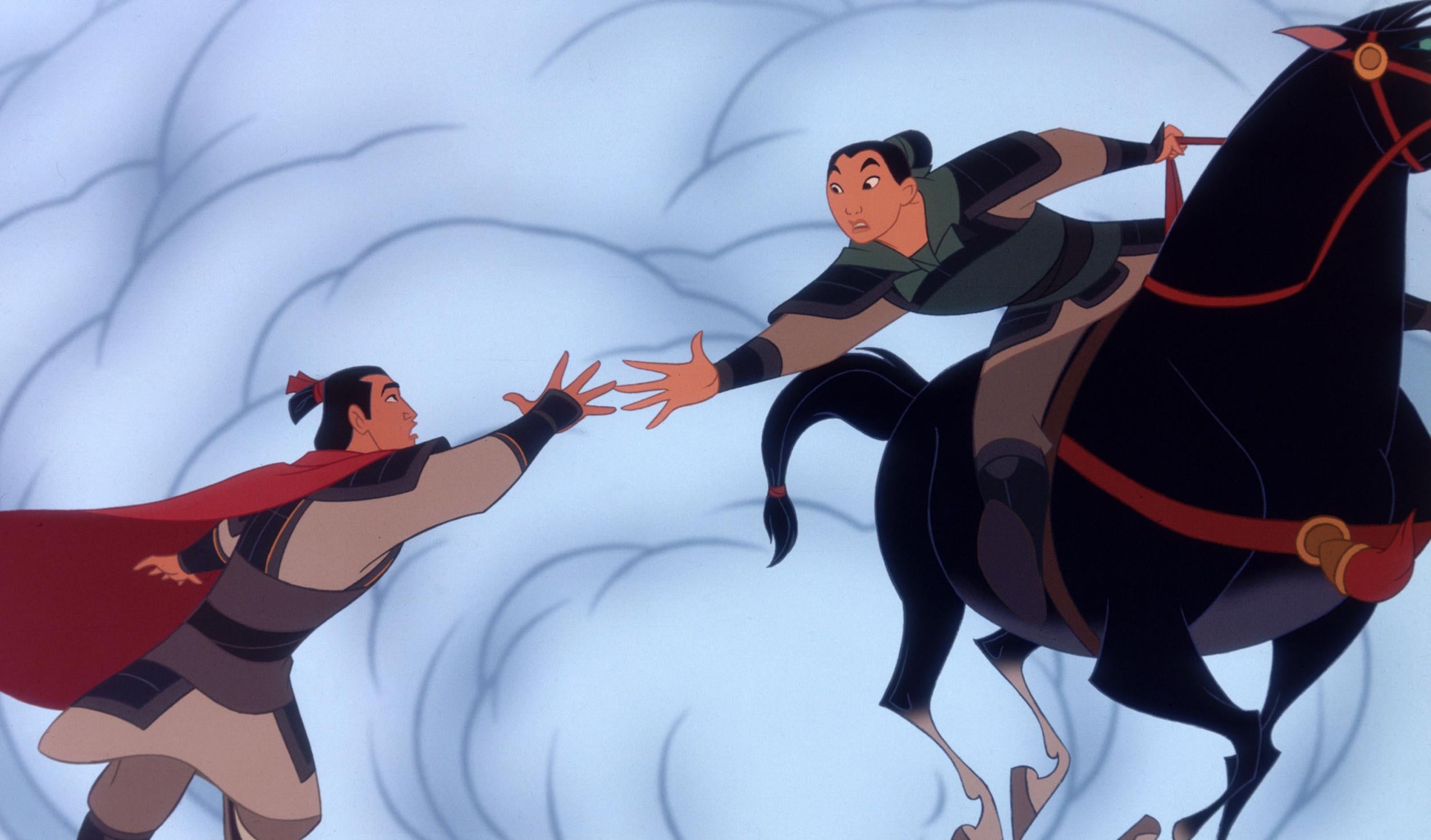 Kudos again to the animators for his facial expressions after she's unmasked; in both the scene where he considers executing her and when they meet again in the city they manage to show that a lot more is going on inside him than his dialogue would indicate (again, his surprised and not-unpleased look when he first sees her in the latter scene is particularly good).
Then there's the villain. Shan Yu's an interesting entry in the stable of Disney bad guys, in that honestly he could just as easily have stepped out of an anime or even a live-action film. There's almost nothing 'cartoony' about him. He's a big, hulking monster at the head of a massive army, seemingly looking to conquer China more for the satisfaction of beating the Emperor than for any desire for political power or wealth. He gets a striking introduction, burning the Chinese flag and declaring his delight at the prospect of facing the whole Middle Kingdom. Later he tells two captured scouts to "tell the Emperor to send his strongest armies. I'm ready for him!" He then has one of the scouts killed just because.
Basically, he's a barbarian through and through, looking for nothing but to prove himself in battle by smashing the best the civilized world can throw at him. This makes him a good foil to Mulan, Shang, and the Emperor, who all are motivated by filial piety and devotion to duty. Mulan fears that she might be only fighting to prove something to herself; Shan Yu actually is fighting for just such a reason, only he never doubts that he'll succeed. He relies largely on overwhelming strength, while Mulan uses cunning and finesse to get around it.
On that note, I have to say the scene of the Mongol hoard coming over the mountain is nothing short of breathtaking, particularly paired with the awesome music.
The film really does allow itself to be a war movie, even if a Disneyfied one. The heroes kill people, characters die in battle, and at one point the Huns even massacre a village complete with explicitly killing children (off-screen of course, but it's still pretty grim. By the way, note how Shan Yu's sarcastic desire to return the little girl's doll mirrors and inverts the way Mulan intervenes on behalf of another little girl in the opening musical number by returning her doll from some bullies).
So, overall, the film's pretty good. My main criticism of it is definitely Mushu. Now, Eddie Murphy is a great comedic talent, and he does a fine job with the character. I laughed quite a bit at his antics. The trouble is that Mushu is simultaneously crucial to the story at several points (including being instrumental in killing the villain) and the rest of the time he's almost entirely disconnected from it. No one except Mulan seems to see or hear him even when they really, really should, save again for one or two specific scenes. He never interacts with any of the other characters (except in disguise), and his dialogue and behavior are tonally distinct from the rest of the story.
Contrast this with the genie from Aladdin, who was explicitly an otherworldly being in service to Aladdin, and hence could be seen or unseen as he liked and would be expected to stand out from the rest of the film (also the Genie was central to the plot). Mushu is more or less just along for the ride, except for when he suddenly intrudes on the story to get it out of a difficulty. You could tell exactly the same story without him and nothing would change except for a few specific incidents (e.g. the reason for their being called up to the front).
Also, Mushu never really completes his character arc. He admits to his selfish motives, but he never has to walk them back or offer to sacrifice them for the greater good. He does offer to go back home with Mulan to take his punishment, but at that point they have pretty much no other options (again, contrast the genie offering to let Aladdin use his final wish to become a prince again, even though his motives were much less questionable than Mushu's ).
Now, I like the idea of a family guardian as the sidekick character, but they needed to integrate him into the story better. You could, for instance, make it explicit that only members of Mulan's family can see or hear him unless he allows himself to be seen. As it is, his presence feels very forced, almost as though there's a whole separate film going on with him and the cricket that only occasionally crosses over with the rest of the story through Mulan.
On the other hand, Mulan's three soldier buddies fit in much better as comic relief, and I'm glad that they were allowed to actually be competent soldiers and put their training to good use when it came to the point. I also liked her grandmother ("Woo! Sign me up for the next war!"), but she has very little screen time.
Meanwhile, the songs are…okay. There aren't very many of them for a Disney film (four I think), and with only one exception (I'll Make a Man Out of You) I found them to be pretty forgettable. The big Oscar-bait song Reflection in particular was thoroughly blah, with the lyrics amounting to simply a flat reiteration of the film's most tiresome and commonplace themes. Also, the movie just sort of stops being a musical about the start of the third act, apart from a very brief reprise. While there's not a lot of places they could reasonably have fit a song in after that (you really can't have characters singing on a battlefield, or at least, you'd have to really, really work at it), it once again creates a sense of disconnection, as if the movie is struggling to make its story fit into the Disney formula.
That, I think, is what it comes down to; that Mulan has a very good, classical story at its core, with big, interesting ideas of familial and national piety, honor, and duty. But the filmmakers feel they have to check off certain boxes; they have to include some stuff about personal identity ("Who I am inside"), they have to include some boilerplate feminism, and they have to have cute sidekicks and songs.
Some of these they manage integrate better than others, but they all feel as though the writers had to fit them in rather than being organic parts of the story.
These are flaws, and they detract from the film, but they don't derail it. As I say, the good parts of the film are very good, and the bad really aren't awful, just kind of annoying. Overall, I'd call Mulan a worthwhile movie; a very good core story with uneven execution that amounts to a generally charming experience.