As I've said many times, I'm a great fan of working character actors: the kind of professional performers who will never headline a marquee, but who show up again and again to deliver rock-solid performances in whatever role they're given. Recently I learned that one of the best of that breed has as last gone to his reward.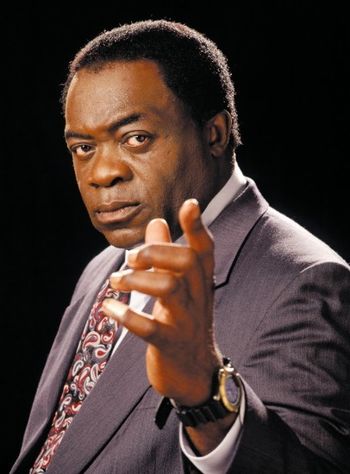 Yaphet Kotto was one of those actors who seemed to simply melt away into his parts, with a commanding screen presence that made him often riveting to watch (he was in fact directly descended from Cameroon royalty). A prolific figure in movies, television, and the theater (he has close to a hundred credits on IMDb), he could take a stereotypical 'Black' role and through sheer charisma and acting power wrestle it into something honest and three-dimensional.
I mostly know him from three roles. The first and most prominent in my mind is as the villainous Kananga in the James Bond film Live and Let Die. The movie itself is a rather mediocre effort in the series, with a lot of things I really like and a lot of things I really don't, but I always thought Kananga was one of the best bad guys of the whole franchise. His plan (to flood the drug market with free opium, simultaneously creating millions of new addicts and underbidding his competition out of business to create a monopoly) was genuinely clever and one of the few that felt like it might actually work. Kananga himself was a commanding and dangerous figure, effortlessly humiliating Bond for most of the first half of the film with his enormous and varied arsenal of resources (including, for the first and only time in the series, potentially supernatural powers). I want to say that Bond hadn't been put through the ringer this badly since at least Goldfinger: almost every gambit he tries gets immediately shot down or overturned by Kananga (even simply bribing a waiter for information: one of the funniest scenes in the film, by the way), and he's pretty much just struggling to stay alive up until at least the two-thirds mark.
Even when Bond eventually manages to begin to strip away his defenses, Kananga remains mostly cool and in charge up until the very end. The times when he does lose his temper, it's in a controlled, emotionally-honest seeming way that makes him feel all the more dangerous. He's very much in the 'equal opposite' camp to Bond, with a similar blend of cunning, sophistication, and savagery (as opposed to a 'warped and frustrated' figure such as Goldfinger), and Mr. Kotto's performance absolutely sells the character.
Unfortunately, he is also granted one of the stupidest deaths of any Bond villain, which ends a great performance on a sour note.
The second role is as Parker in Alien, one of the two mechanics of the ship (alongside the late Harry Dean Stanton). In that extremely-well-written film, Parker was arguably the most practical minded of the crew. At first he was chiefly concerned with his paycheck and the possibility of a bonus for finding the derelict spacecraft. He was then the one suggesting the simple, straightforward solutions: "Why don't you freeze him?" "Just kill the thing," and so on. He's a blue-collar, rather simple man trying to wrestle some sense into an increasingly out-of-control situation and providing much of the necessary muscle in the hunt for the alien.
There's a lot that could be said about how well-done this film is, especially in how convincingly it portrays its characters as that rarest of cinematic species, normal people. Mr. Kotto's effortlessly casual and genuine performance amongst his equally talented co-stars is a key point in selling this.
Looking back on it, I especially recall his jovial, unaffected friendliness toward John Hurt's Kane during the fateful dinner scene right before everything goes to hell. It's such a simple, but familiar tone: a man cheerfully supporting and building up his friend / co-worker who has just been through a traumatic, potentially fatal incident, happy that it seems like everything has worked out and showing his affection without outright stating it. Again, something just about everyone's experienced, but not the kind of thing you usually think about, and Mr. Kotto nails it effortlessly, making the subsequent events all the more shocking and horrifying.
The third role is as Agent Mosely in the action-comedy Midnight Run, starring Robert De Niro as a put-upon bounty hunter trying to bring former mob accountant Charles Grodin across the country for a sentencing hearing. Mosely is the FBI Agent who is also hunting Grodin, hoping to grab him as a witness in his own case. It's a great little film and very funny, with Mr. Kotto getting many, many laughs as the no-nonsense Fed who continually gets humiliated and out-witted by De Niro (among other things, De Niro swipes his badge to allow him to pretend to be an FBI Agent when needs be, leading to Mosely being repeatedly told – to his increasing fury – that the guy he's looking for is with "Agent Mosely"). As always, Mr. Kotto lends extra gravitas to the role, both making Mosley remain a credible threat to the protagonist throughout and making the jokes at his expense all the funnier.
Most people today probably know Mr. Kotto from his long-running role as Lieutenant Giardello on Homicide: Life on the Street (which I have yet to see), and he also had guest appearances on both Gunsmoke and Law & Order, putting him in the cast rolls of both of American television's longest running prime-time dramas, as well as roles on Murder She Wrote and Perry Mason. Other notable roles include supporting turns in the Arnold Schwarzenegger flick The Running Man, and the would-be-finale Freddy's Dead: The Final Nightmare.
Equally notable are the roles he turned down: he was on a short list of actors to play Jean-Luc Picard in Star Trek: the Next Generation and was offered the role of Lando Calrissian in The Empire Strikes Back. Both roles he turned down, which he (unsurprisingly) later came to seriously regret.
(Apparently, George Lucas also considered him for Han Solo back when the first film was being cast. Which means that there is an alternate universe where Star Wars featured Robert Englund as Luke Skywalker and Yaphet Kotto as Han Solo).
As I say, Mr. Kotto was one of those actors who could always be relied on to absolutely nail his role with a powerful presence and oceans of raw talent. He was honestly one of my favorite contemporary character actors, someone I was always delighted to see show up. His presence will be missed.
Eternal rest grant unto him, O Lord, and let perpetual light shine upon him. May his soul and the souls of all the faithful departed, through the mercy of God, rest in peace.